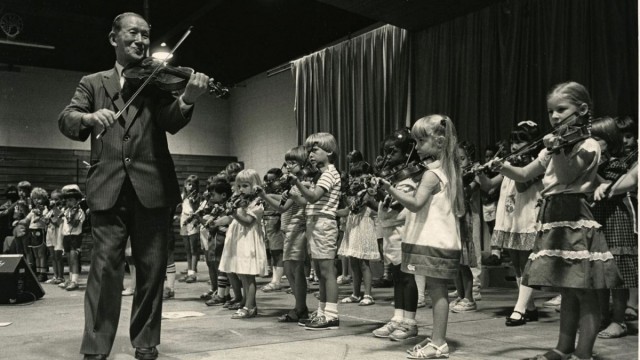 Shinichi Suzuki was born in Nagoya, Japan, on October 17, 1898. He was the son of a violin maker and grew up in his father's factory. When hearing a recording of the famous violinist Misha Elman, Suzuki was inspired to learn the instrument. He spent months studying the recordings of Misha Elman, attempting to imitate the sounds he had heard. This began his training as a violinist. When he was older, Suzuki studied violin for 8 years in Germany and returned to Japan as an accomplished and celebrated performer. In Japan, he was appointed as a violinist to the Imperial Court and he formed the Suzuki Quartet with his brothers.
When Suzuki was asked by a man to teach his young son, Suzuki started to ponder the ways to teach music to children. He was struck by the seemingly obvious realization that children in Germany spoke German fluently, while children in Japan spoke Japanese fluently. Although these languages are vastly different, it occurred to him that children were able to learn their mother tongue with ease, with little regard to the relative complexity of each language. He noted that it all boiled down to the environment in which the child lives. A child raised in a household that speaks Japanese will learn to speak Japanese, while a child raised in a household speaking German will learn German.
Suzuki began to apply these observations to the teaching of children. Suzuki started with the idea that all children can learn if the environment is conducive to learning. He exposed his students to recordings of the masters and encouraged his students to imitate what they heard and what they saw in their lessons. After World War II, Suzuki went to Matsumoto, Japan to help start a music school. He spent the remainder of his career concentrating on teaching. His movement and philosophies became known within Japan as Talent Education (or as Dr. Suzuki translated it, Ability Development) and outside of Japan as the Suzuki Method.
In 1964 Suzuki introduced his style of teaching to the United States. Since then, Suzuki's training philosophies and methodologies have slowly been gaining a following here and around the world.
Dr. Suzuki died on January 27, 1998.
---
Photo of Dr. Suzuki courtesy of the Suzuki Association of the Americas.