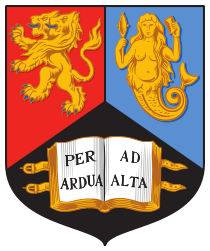 Yesterday, for my near final act within my master's in composition by research, my scores, CD, and thesis were delivered for examination. I submitted about 15,000 words and over 45 minutes of music, the most music I've ever written within a year. The last piece I wrote was a 25 minute piano concerto (three movements) to be premiered in 2017 by Dr. Rinna Saun. That's the longest work I've ever written. Now I wait one or two months for folks to read my material, look at my music, and listen to my recordings. If all goes well, I will have few edits to make before submitting the final version to the library.
This program, called a Master of Arts in Composition by Research, is through the University of Birmingham in the UK. My advisor and composition teacher is Michael Zev Gordon. We met via Skype every one or two weeks to discuss my studies and the music I was writing.
Before being accepted into this program, the student proposes a goal for the Master's and discusses it with the potential mentor. My music had already reached a fair level of sophistication, and the professors from every Master's program to which I applied each asked me why I wanted to do a Master's when I was already composing at my level. My answer was simple: I wanted to break out of Common Practice. I could write like Mendelssohn. I could write in various modal styles, in styles reflective of the classic American sound, and in styles that were uniquely mine. But I was well aware that I was tied to a heritage grounded in Common Practice. I could not imitate Debussy's most impressionistic music. I could not imitate Stravinsky. And this is music that already is one-hundred years old. How could I write the music in my own head if I didn't understand the influences of the past hundred years? I needed new tools that I could adapt and apply to my own craft.
The research side of my degree was significant. I listened to a lot of music and studied a lot of scores. I discovered musical gems not previously familiar to me. A couple of my favorites include Ravel's eclectic L'enfant et les sortilèges and Ligeti's wild piano etudes (No. 13 reminds me of Shepard tones).
Beyond score study, I dove deep into the academic music theory papers available on JSTOR, ProQuest, and various other sites. An undergraduate degree within the United States tends to focus mostly on Common Practice, and at best it shallowly touches upon twentieth century music techniques – not even the theory (i.e., the principles by which we aurally interpret the music). However, the breadth of styles within world music and music of the last 130 years immediately shows us that Common Practice is but one small set of principles relevant to how we can hear music. Common Practice does little to explain the success of much of Debussy's, Ravel's, or Stravinsky's music, and it certainly does not touch upon anything relevant to Ligeti's etudes. Therein lies the value of the many academic articles now available on the Internet: there exists significant exploration of the theories behind twentieth-century and contemporary music. (Although I still think that there is more to be written about Ligeti…)
It would be difficult to tally the scores and papers that have influenced my writing over the past year. Ravel's L'enfant et les sortilèges is a treasure trove of orchestration tricks. Messiaen and Boulez (Messiaen's student) both wrote extensively about Stravinsky's sense of timing and phrasing (les personnages). Dmitri Tymoczko wrote about Scale Networks in Debussy's compositions. The list goes on, but two papers stand out as opening doors into concepts I will be exploring in many compositions ahead: Angela Hall's exhaustive dissertation on Eric Whitacre's harmonies, and Philip Ewell's introduction to Russian music theory.
My music evolved significantly during my master's in composition. I did break out of common practice while remaining true to my artistic aesthetics (think heart). I have a much stronger understanding of how the music I admire from the twentieth-century is constructed and heard. I even wrote a powerful movement of the concerto using rotational-arrays. The prime cell is a subset of a mode of limited transposition (my idea, but I'm sure not original), and that has all sorts of lovely side effects in the generated material and what I could do with it. In short, my musical growth exceeded my expectations, and I feel that I have met my original goals for the program. Future articles I write will discuss aspects of what I learned and composed.
It has long been clear to me that the United States' typical undergraduate offering in music theory is woefully limited in enabling a modern composer to write with a breadth reflective of our current age. Yet, I have met more than one college composition professor who has stated that music theory is becoming increasingly unimportant for today's composers. I could not disagree more. Music Theory is about understanding by what principles music speaks to the human ear. Without understanding some set of principles, as composers we would always be destined to trying to invent something that "works", and that seems like an inefficient approach to composing. Come August, when my access to the university's library is closed, I will be purchasing my own subscription to JSTOR.