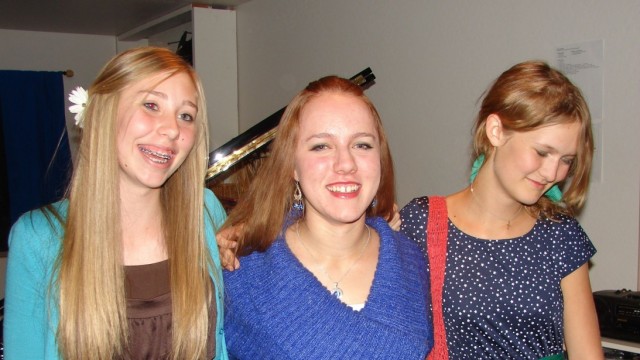 A few years ago, I took the weekend course Suzuki Principles in Action (SPA), a continuing education course for experienced Suzuki teachers. Rather than being a "here's a bag of tricks you can use in your studio" kind of course (what I had expected), it was a "let's look at the bigger picture" kind of course. It significantly changed how I approach teaching.
In the course, the concept of The Accomplished Learner was presented. The term "Accomplished Learner" gives a concise label to what we all want our students to become: Accomplished musicians who have become active and independent Learners.
The goal of each teacher is formulate their image of what an Accomplished Learner is and to use this image as your long term goal during each lesson. The visual I use is the child in his/her current stage standing in the foreground, the late high schooler as an Accomplished Learner standing in the background, and the distance and direction we need to move to get to that latter individual.
My image of an Accomplished Learner is quite a musician:
She finds joy in music.
She has a strong foundation in classical music.
She plays at a fairly advanced level in a variety of musical styles that suit her.
She holds herself to a high standard in a healthy and productive manner.
She plays musically and knows how to make (and defend) her own musical choices.
She plays with a technique that promotes ease of playing and does not contribute to injury.
She is body aware to a point where she can identify when a technique she is using is injurious or not ideal, and she is able to experiment or seek help to identify a better technique.
She can play by ear.
She can read and sightread at a level that offers easy enjoyment of music. This includes the ability to read and realize a chart.
She is comfortable composing and improvising.
Her facility with music theory is strong enough to support her efforts in analysis, composing, and improvising.
She is comfortable playing in ensembles, and she is confident enough to organize her own ensembles.
She enjoys sharing her music with others, and she is aware that music is a gift worth sharing.
From this list, I have an idea of what I would like to cover in most lessons:
Keyboard geography and the technique associated with it (scales, arpeggios, chord progressions, etc.)
Reading (emphasis on sight reading, frequently with duets)
Theory (keyboard, written, or analysis; frequently in preparation for a future group class)
Improvisation
Ear Training (usually at the piano)
Review of existing repertoire (opportunities to work on tone, technique, musicality, transposition, or preparation for performances)
Work on current repertoire
Preview of future repertoire
At least one game somewhere in the lesson
Ideally, I manage to combine several points in one activity. Reading and theory, or improvisation and ear training.
My group classes vary in topics over the course of the year. These topics include:
Theory (usually of multiple games, and preparation for these might happen in the individual lessons)
Performance (a low pressure "play what you want for your peers" session)
Technology (topics might be how to use GarageBand, how to do looping, how to use music notation software, etc.)
We also have several projects over the year:
Four piano recitals
An ensemble recital, where my piano students get to play chamber music we've rehearsed with students from a local string studio
Arizona Study Program (I hope — we need a critical mass of local students to make this happen)
Each student composes at least one piece a year that is presented on the final piano recital of the year
A service recital at a retirement home of old and new repertoire — anything well prepared that the students want to play
Duets among my students
I am trying to enable more effective learning at home. I require my families to have iOS devices at the lessons and at practice. They take videos of what I am demonstrating, they have theory or reading games assigned to do at home, and they can upload videos of "perfect takes" to me during the week.
There are some side effects of trying to cover such a breadth of training:
By age seven, lessons are typically an hour long
I do a lot more lesson planning
Lessons are even more fun to teach
A topic or issue may require more time than anticipated, and I may not get to all of my lesson plan
I require more active participation from the parents
Students will progress through the repertoire faster (I think … too soon to know for sure)
I have to be careful not to assign too much for home practice
While my Accomplished Leaner approach has influenced teaching of all my students, I have no doubt that my younger students will get the most benefit, if only because they will have the most time under this new approach.
Yesterday I started a new student, and I could already imagine his Accomplished Learner. Our lesson went by in a flash, and I can hardly wait to see him again next week.