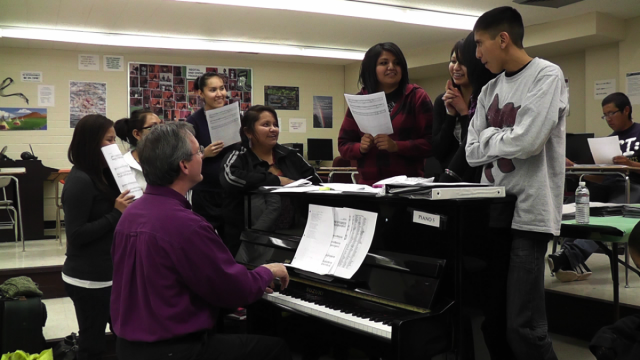 I offer music composition residencies to schools, organizations, and communities. Because I am a Roster Artist of the Arizona Commission on the Arts, your Arizona based school, organization, or community can apply for grants to bring me in.
My residencies typically focus on the compositional process. Residencies might include any of the following:
Working with your band, choir, orchestra, or other group to compose a work together. The students or members of your performing group are walked through a process of composing, while they have the opportunity to guide the decisions necessary to create the piece. Students learn about and contribute the programmatic elements, emotional qualities, melodies, and orchestration decisions necessary. The group performs the piece at a concert at the end of the residency.
Working with individual students on composition. Students are taught important concepts of composing, given creative exercises to learn these concepts, and coached through the process of writing a work that they or some peers will perform.
Working with students to musically illustrate a book. Individual students choose a book (or, in a joint residency, work with another student writing a book) and explore the different ways they can illustrate this book through a new piece of music. Students or their peers will then perform the music along with the reading of the book. The final performance is offered to younger students as a way of engaging both the younger and older students in a love of reading.
Writing a piece for your performing group. During the residency, I meet periodically with your group to teach about the process of composing and give updates on the work in progress.
References are available.
Given enough time, I may be able to help you write any grants necessary to enable the residency.