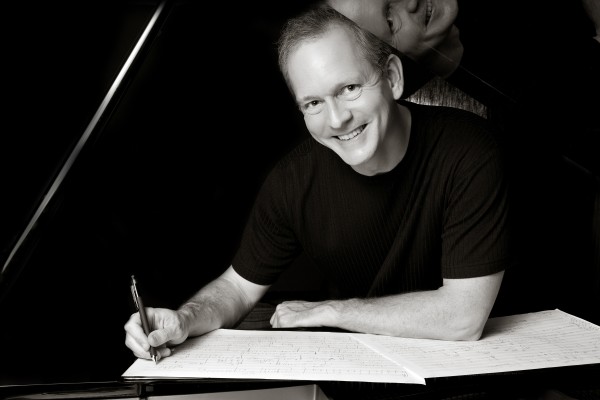 Henry Flurry is an award-winning composer and pianist based in Prescott, Arizona. His formal training includes studies at the New Orleans Center for Creative Arts, Northwestern University School of Music, University of Birmingham (UK), and the European American Musical Alliance of Paris, France.  He has studied composition with Michael Zev Gordon, Marianne Ploger, Jonathan Best, Philip Lasser, Stephen Paulus, Narcis Bonet, Michel Merlet, Samual Adler, Ellis Marsalis, and Bert Braud.
His major piano mentors include Laurence Davis, Eric Van De Vort, and Joseph Gurt. He received both his formal and informal Suzuki teacher training from Renee Robbins and Armena Marderosian.
Mr. Flurry composes for solo instruments, chamber ensembles, and orchestra. His works have been commissioned by many individuals and groups, including the Atlanta Wind Symphony, University City Symphony, Kennesaw State University, Yavapai Community College, Prescott Chorale, Camarata Singers, and Balance Duo. His Fanfare for My City was selected by the Louisiana Philharmonic Orchestra to be their official fanfare. Recent large works include Fragments, a setting of excerpts from the Dead Sea Scrolls for full chorus and percussion; 1912, a full orchestra celebration of the Arizona centennial; Impulso: Concerto for Marimba, Flamenco Guitar and Dancer, a collaboration with flamenco guitarist Chris Burton Jácome; Ragtime Dances for Marimba and Orchestra, commissioned and premiered by the Prescott Chamber Orchestra; and Currents, a piano concerto to be premiered August 26, 2018 by Steinway Artist James d'Leon at the inaugural concert of Arizona Philharmonic.
Prescott Fine Arts Association presented a concert of solely Mr. Flurry's music in 2009. In celebration of its 50th anniversary, Yavapai College is co-presenting the August 26, 2018 Arizona Philharmonic's concert of solely Flurry orchestral music.
Mr. Flurry is an experienced collaborator and educator. At the University of Michigan's School of Music, he served as Associate Director of the Center for Performing Arts and Technology and adjunct professor. He has collaborated with artists to create multimedia children CD-ROMs for many different publishers, including Disney, Hasbro, Mattel, Scholastic, Crayola, IBM, and Harper Collins.  Mr. Flurry has led residencies in composition across Arizona with classes and ensembles from elementary schools, middle schools, high schools, community colleges, and the Navajo reservation.  Before its closure, he served as composer member of the Arizona Arts Roster for 12 consecutive years. He has led a collaborative effort between Chaparral Arts, Inc., Yavapai College, Yavapai College Performing Arts Center, and Prescott Chorale to form Arizona Philharmonic, a regional professional orchestra designed to serve the needs of Prescott-area productions.
Currently, Mr. Flurry and his family reside in Prescott, Arizona. There he composes, teaches composition and piano, and is an adjunct professor for Yavapai Community College and an occasional mentor for Prescott College. He and his wife Maria regularly perform together all across Arizona as the duo Sticks and Tones.
Henry Flurry is a certified Suzuki Piano teacher and past member of the Roster Artist of the Arizona Commission on the Arts. He is a co-founder of Chaparral Arts, Inc. (a non-profit organization supporting the performing arts in Arizona), Chaparral MusicFest, Chaparral MusicFest Suzuki Academy, and the Arizona Philharmonic.
Mr. Flurry accepts commissions for new compositions.